Portable Paint Fume Extraction Machines
If you are a Smart Repairer, or in any trade which produces paint spraying fumes, you may have found a lack of choice when it comes to extracting these spray fumes without installing a spray booth?

When spraying outdoors, providing you follow the recommended guidelines by HSE, the spray mist isn't really an issue. However, when you move to spraying indoors, they not only become unpleasant, they are extremely bad for your health. If you are spraying a product which contains isocyanate, found in all 2k primers and lacquers, it is not only unpleasant and harmful indoors, but also illegal if it isn't extracted through a filtered extraction machine of some description.

The only options I found available when I moved to working indoors, were to install a small spray booth, which would take up most of the available space in my workshop, but limit the area I could spray on a car to just one end, or some portable extraction machines which were nothing more than a welding fume extractor, with a name change and an inflated price! Neither of these were appealing to me, so along with an engineer with vast experience building spray booths, we set about finding a better solution.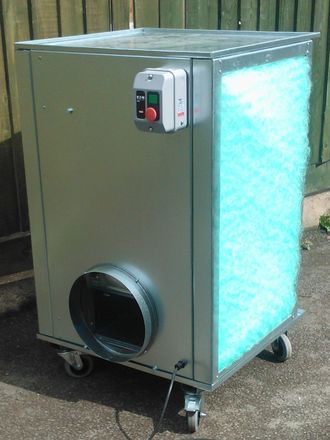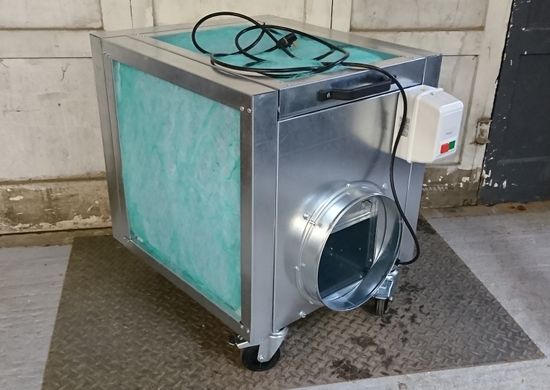 The Smartmate Fume Extraction machines
There are 2 sizes of Smartmate Fume Extraction Machines available. Smartmate 1, has 3 sides with filters to catch the wet over spray and fumes, and one side where they are vented out through a large, 6 metre length flexible ducting tube. Smartmate 2 is smaller, but equally powerful carrying the same powerful fan as smartmate 1 but has an extra filter wall on the top surface, ideal if you are mobile and need a slightly more portable solution.

The ducting tube can be placed through an open door or window, or fitted more permanently to a vent in the wall. Additional 6 metre lengths of ducting can be joined if necessary, along with extra top quality filters which come in a 20 meter roll, which can be purchased at the same time with your order.
As the fumes have been filtered, they are acceptable to be put directly out to atmosphere, in the same way as a spray booth does. The filters are the same as those used in a full sized spray booth extraction wall and the machine houses an extremely powerful fan, which draws the fumes in through the filters, before blowing them out through the ducting. The machine runs on a normal three pin socket for single phase electricity supply, or can be ordered to run on three phase, or 110v. It can be wheeled around the workshop and located near to your spraying area, or left in the direction of your spray mist and will rapidly remove the overspray.
The Portable Fume Extractor As Used By Auto Brite
We have recently moved units and have built a dedicated spraying room for the extraction. This measures 6.5m x 4m x 2.4m and clears the room in 1 minute. With our custom built fire rated PVC curtains, we have made our purpose built room which has proved to be extremely popular so much so, that we now distrubute throughout Europe.
When carrying out a standard sized Smart repair in our old unit, and working in a 500 sq ft workshop, the draw of air from the machine is enough to clear the room within 10 minutes. This is from experience using the machine every day for all priming, application of base coat and obviously lacquering and I can honestly say that as well as using an air fed mask as in HSE guidlines, it works fantastically.

We have supplied numerous fume extraction machines to many different trades and have received nothing but positive feedback. These have included, Train project companies,Engineering design companies,Rowing companies,Bicycle repair/custom builders, Boat painters, Motorcycle sprayers, Furniture painters, Caravan repairers, Car main dealers, Storage container operators, Vehicle testing facilities and even an Airport, as well as Smart repairers throughout the country.
If You Are Interested In Purchasing A Smartmate
The units are made to order and generally take up to 2 weeks from order to delivery, but if you would like to see one working, you are welcome to visit my Express Bodyshop, where it is used every day. They are shipped to you on a pallet straight from the manufactures and ready to use straight away. In my opinion, there really is no better, safer, more suitable fume extraction machine for our trade and better still, less than half the price of many of the other options available!

For more information, prices and availability, please call or email: sgheathorn@gmail.com